Coronavirus Testing Services
Coronavirus Testing Services
I HAVE COVID Symptoms
Rapid antigen results available in as little as 15 minutes.
PCR test results available in 24-72 hours.
Testing available at all clinic locations.
Testing typically covered by insurance.
(Please contact your carrier to confirm.)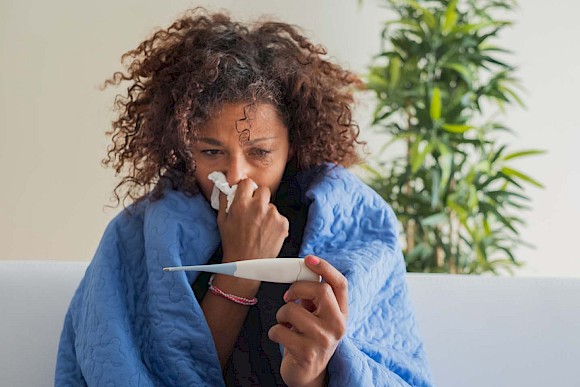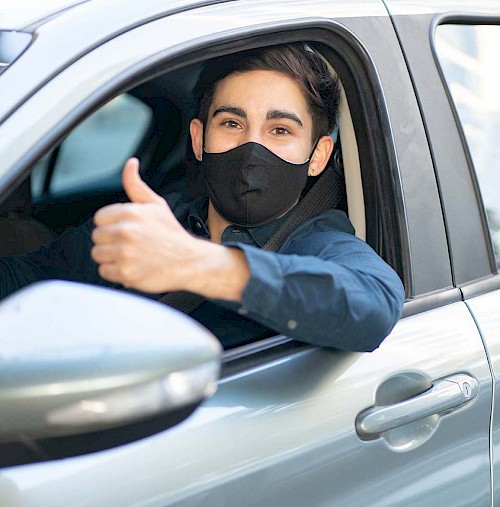 I DO NOT Have COVID Symptoms
Rapid antigen results available in as little as 15 minutes.
Rapid Molecular PCR testing available for self-pay only at participating locations. (Midwest City, Ok, Wake Village TX, Bryant, AR, and Blanchard, LA)
In-clinic visits booked online will be seen by a provider. Please note that some insurance carriers do not cover testing costs for asymptomatic testing. Please contact your insurance carrier for details.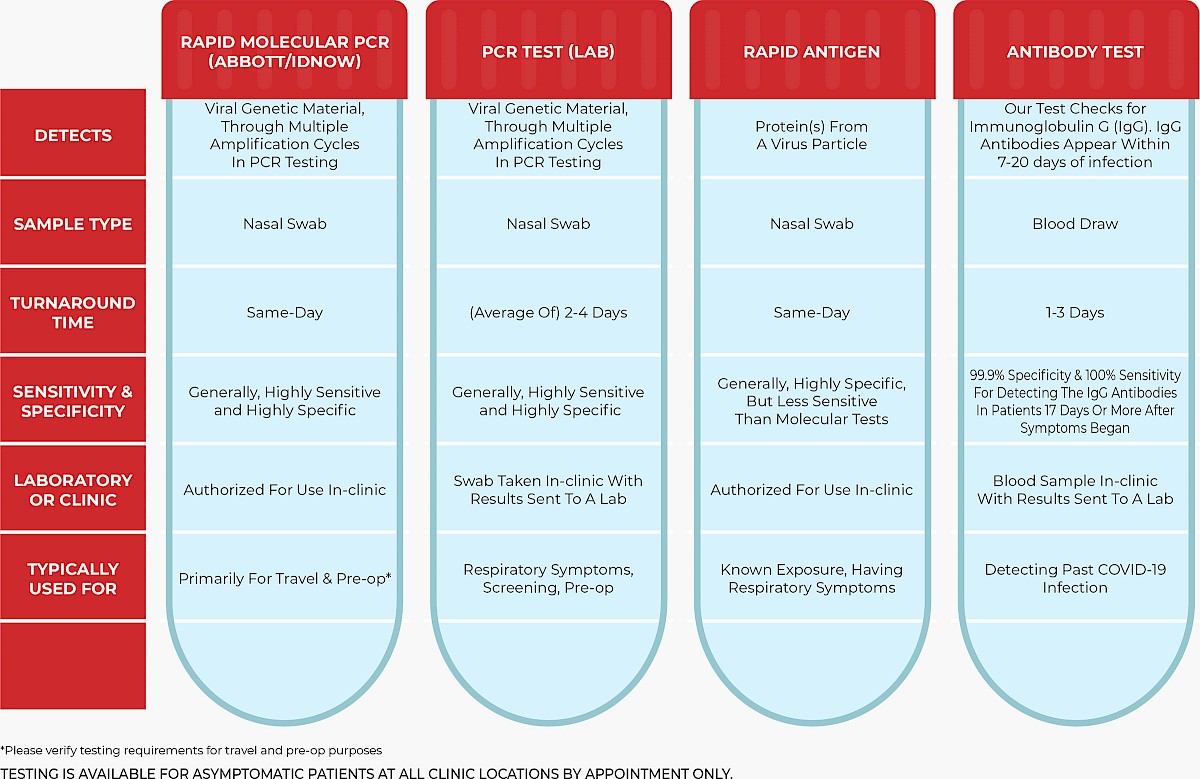 Frequently Asked COVID Questions
For more Coronavirus information, take a look at our FAQ below.
What are the types of COVID-19 Tests?

HealthCARE Express offers four types of COVID-19 tests:

Rapid Antigen Test

This test detects protein fragments specific to the Coronavirus. Turnaround time for results is usually very quick and in some cases, results can be reported within 15 minutes. Rapid tests are considered most reliable in a patient who is experiencing COVID-19 symptoms. We request that patients wait 3 days after presumed exposure to COVID-19 to be tested.

PCR

The CDC recommends the COVID-19 PCR lab test, as it is considered highly sensitive and very reliable. Labeled as the "gold-standard" in COVID detection, this test detects genetic material that is specific to the virus and can detect the virus within days of infection. The test is a nasal swab test and is sent to a lab. Results typically take 24-72 hours to be returned.

Rapid Molecular PCR Test

Primarily used by asymptomatic patients for travel or pre-op purposes, the rapid molecular PCR test is a nasal swab test that has high sensitivity and yields same-day results. Due to limited supply, HealthCARE Express offers

Antibody Test

COVID-19 antibody test is a test designed to detect previous infection of COVID-19. Results typically take 24-72 hours. Antibody tests work by taking a blood sample and analyzing the sample for the presence of antibodies, which may indicate potential immunity to the patient.

How much does a COVID test cost?

Typically, insured patients are generally not responsible for the cost of COVID-19 testing and related services including co-pays or other out-of-pocket costs. However, if you are asymptomatic there are circumstances where your instance carrier may deny coverage for COVID-19 testing or require co-pays.

If you are asymptomatic and have no known or suspected exposure to COVID-19 but need to be tested for travel, pre-op, or before visiting loved ones, your costs will likely vary based on your insurance. Contact your insurer for complete information.

If your visit is not covered by insurance, or you do not have health insurance Healthcare Express will still be able to test you and will charge self-pay pricing for the medical evaluation and for the cost of the COVID test. The price of the service will depend on the state where your clinic or testing center is located, the provider evaluation, and the reason for the visit.

How to I get my COVID-19 testing results?

Test results are available on the patient portal or by downloading the healow app from google play or app store, and using practice code JBHHAD. Visit our Lab Results help page for more detailed instructions.

What are the common symptoms of COVID-19?

COVID -19 Symptoms

Symptoms of the COVID-19 virus may vary from case to case, and typically develop between two and fourteen days after exposure. To reduce chances of infection, it is important to follow health and safety guidelines, including social distancing and wearing a mask or protective face-covering in public areas. Symptoms of COVID-19 may include:

High Fever (over 102 F)
Chills
Body aches and muscle pains
Dry, Persistent Cough
Shortness of breath
New loss of taste or smell
Headache
Congestion in the nose or chest
Fatigue
Diarrhea

If you are older than 65 or have a pre-existing health condition such as heart disease, lung disease, or diabetes, it is particularly important to be tested and receive guidance from a medical professional.

When to Call 911

Seek emergency medical care if you or someone around you is experiencing severe symptoms, which may include:

Difficulty breathing
Lingering chest pain or pressure
Sudden confusion
Inability to fully awaken
Bluish lips or skin

What do I do if I test positive for COVID?

If you test POSITIVE and you have symptoms:

Monitor your symptoms. If you have an emergency warning sign (including trouble breathing), seek emergency medical care immediately.
Stay in a separate room from other household members, if possible.
Use a separate bathroom, if possible.
Avoid contact with other members of the household and pets.
Don't share personal household items, like cups, towels, and utensils.
Wear a mask when around other people if able.

If you have NO symptoms, you can be with others after 10 days have passed since you had a positive viral test for COVID-19.

If you develop symptoms after testing positive, follow the guidance above for symptoms.

If you tested positive, please reach out to your doctor to see if you would benefit from monoclonal antibody infusion therapy.

If you are pregnant and tested positive for COVID-19, please contact your OB/GYN immediately for further guidance.

For any chest pain, trouble breathing, passing out, worsening symptoms or any other concerning symptoms seek medical attention immediately!!!

If you test NEGATIVE If you have no symptoms you should still quarantine if you have been in close contact (within 6 feet of someone for a cumulative total of 15 minutes or more over a 24-hour period) with someone who has COVID-19 unless you have been fully vaccinated.

Stay home for 14 days after your last contact with a person who has COVID-19.
Watch for fever (100.4◦F), cough, shortness of breath, or other symptoms of COVID-19.
If possible, stay away from people you live with, especially people who are at higher risk of getting very sick from COVID-19.

People who are fully vaccinated do NOT need to quarantine after contact with someone who had COVID-19 unless they have symptoms. However, fully vaccinated people should get tested 3-5 days after their exposure, even if they don't have symptoms, and wear a mask indoors in public for 14 days following exposure or until their test result is negative.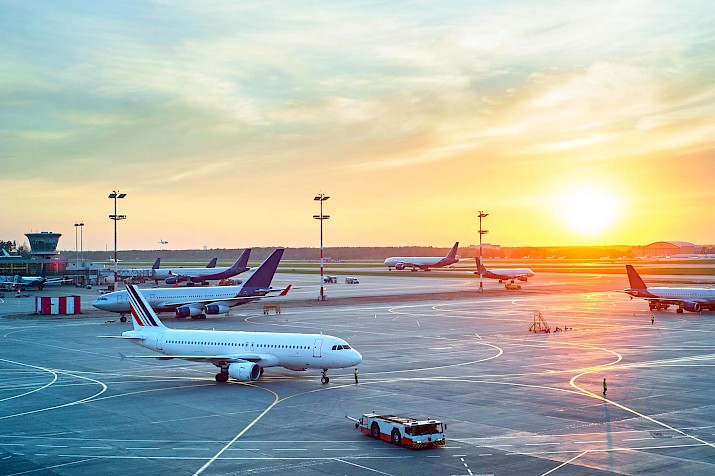 For Travel, The Type of COVID Test Can Matter
Planning a vacation? If so, you may need a COVID-19 test. Many countries are currently requiring proof that travelers don't have COVID-19 before they enter, including the U.S.
It is best to check the rules of each country or state you plan to visit before your trip and check with the airline to be sure that you choose a test that qualifies for travel.
Healthcare Express offers both Rapid Antigen and PCR COVID-19 testing at all clinic locations. Rapid Molecular PCR COVID-19 testing is now also available at select Healthcare Express clinic locations. Due to limited supply travel testing is available by online appointment only.
While you may want to go for the quick, same-day results of a rapid COVID-19 test, some destinations actually require the PCR (polymerase chain reaction) test before you can fly out to your destination. The PCR COVID-19 lab send-out test can take 24-72 hours to receive results so if you choose this test. You may want to get tested at least a few days before your planned departure to ensure that you receive your results in time or opt for our Rapid Molecular PCR test with same-day results.
Take a look at the CDC guidelines for more information!
Your Safety is Our First Priority
We are taking many precautions to ensure your safety while visiting our clinics. All team members, from front desk to provider, wear protective gear including masks and gloves. We have also installed germicidal UV systems in our clinics that kill 99.9% of airborne pathogens.
We are continuing to provide a healthy, clean environment with routing cleaning and sanitation standards that exceed CDC guidelines. Our lobbies are consistently stocked with hand sanitizer and we offer virtual visits and contactless check-in services for patients who book their appointment online.